Everything You Wanted to Know about Natural Henna for Eyebrows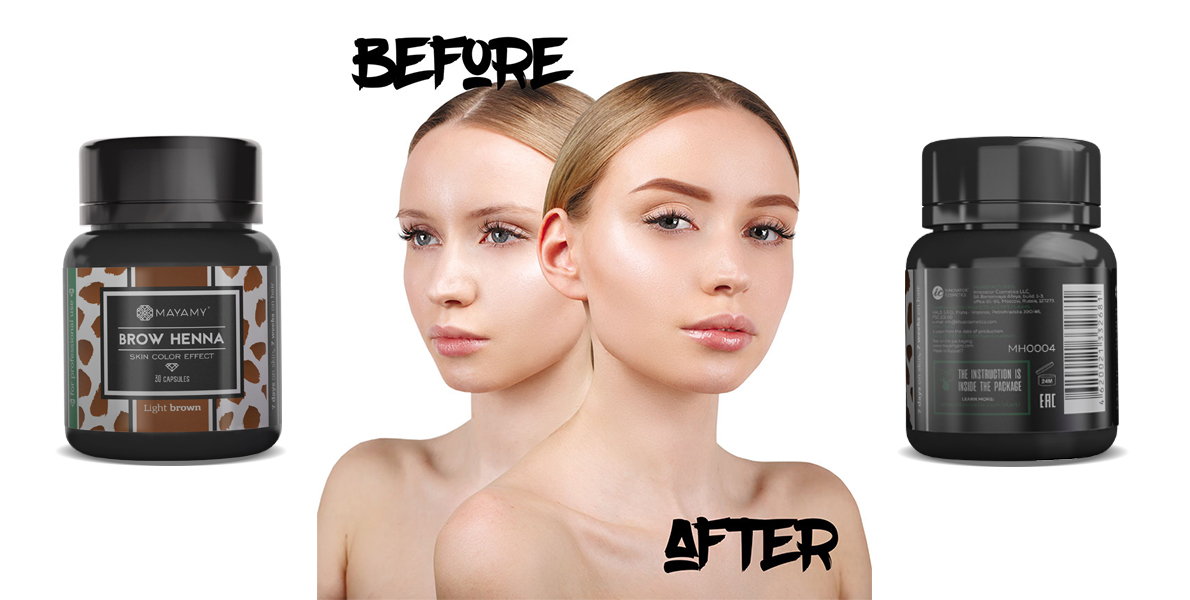 For many centuries people living in African, Arabic countries, and India have been using henna to color their hair, eyebrows, and even fabric and leather. This natural colorant is also used to create beautiful body art, and it is an inseparable part of the Indian bride's wedding day.
Today henna is popular in the beauty industry for natural eyebrow tinting. Millions of people have already tried henna eyebrow tinting and chosen it for their regular beauty routine.
Henna. What Is It?
Henna is made of dried powdered leaves of the plant called Lawsonia inermis. It grows in countries with hot and dry climate. Depending on the region where henna has grown, the tinting result will be different. It can vary from light orange to dark burgundy. The hues will be mixed to get the needed color. By the way, henna grown in dry and hot weather conditions stains better, keeping your skin tinted for up to two weeks and brow hairs for a few more weeks.
The color a henna paste leaves on the skin and brows depends on the work of lawsone, the active ingredient of henna, and keratin, contained in our skin and hair. The structure and natural color of brow hairs influence the intensity of tinting. It is better to do a strand test to know for sure what tint you will get. If you are prone to allergies, a henna patch test is a must for you.
Eyebrow henna powder should be mixed with a liquid before application. Lemon juice, water, and even coffee are sometimes used for this purpose.
Types of Henna Brows
To create a perfect henna brows makeup for their clients, brow artists can use mixes of several types of this natural product. Henna brows is a kind of semi-permanent brow makeup, so the color must be perfect.
Natural henna, the one received from Lawsonia inermis, is the "classics" of non-chemical colorant. It gives your eyebrows a regular tint of reddish brown, varying from light to dark tone. Such makeup has to be renewed every couple of weeks.
Neutral henna, made of Cassia obovate, is used for shaping and coloring eyebrows without chemicals. Unlike the previous type, this one is not used separately, as it doesn't give color. However, this kind of eyebrow colorant can be blended with the regular henna to get lighter shades of red and blond brows.
Black henna, or indigo, is made of the plant Indigofera tinctoria. This colorant is used to darken natural henna and make it dark-brown or black. Today black henna is typically made of artificial components.
Why Choose Nano Capsules MAYAMY Brow Henna?
MAYAMY BROW HENNA lets you feel beautiful and confident every day. Forget about brow pencils and tattooing. Eyebrow henna will set you free from the daily eyebrow routine and will not disappoint you the way permanent makeup can.
The procedure of MAYAMY BROW HENNA coloring will take you some time. The capsule is diluted with a mineral solution and applied to the eyebrows. After a few minutes, it should be wiped off with a cleansing solution. That is it!
Why should you choose MAYAMY BROW HENNA nano-capsules?
The products of the brand have been on the market since 2014.
It can cover eyebrow permanent makeup to change the eyebrow shape.
It allows filling voids in the eyebrows and strengthens hairs.
One nano-capsule is enough to carry out 2-3 procedures.
If the eyebrows are not equal, you can work on their shape with brow henna capsules.
MAYAMY BROW HENNA nano-capsules are a perfect solution for brow artists and women who want to look flawless every day.