How to Avoid Causing Heat Damage to Your Hair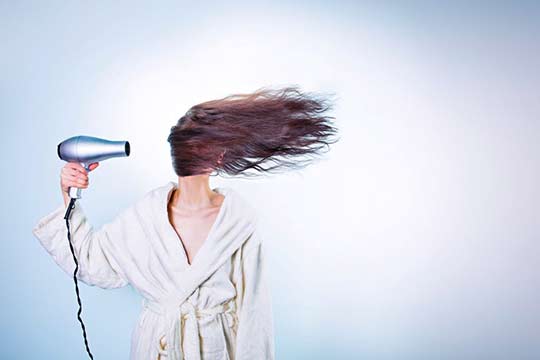 Heat styling has made it easier than ever to get the look that you want from your hair, with minimal effort. Whether you're after silky and straight or want to add some volume and body to your style, there's no denying that flat irons and curling tongs are excellent tools that allow us to create gorgeous hairstyles. However, it's a fact that heat styling and hair damage go hand in hand, and if you're not protecting your hair from the temperature of heat styling tools, then you could be causing split ends, drying your hair out, or even causing your color to fade. So, what can you do to naturally protect your hair from as much heat damage as possible? Let's find out.
#1. Prepare Your Hair:
The healthier that your hair is, the more resistant it will be to heat damage. Regularly use a deep conditioning product and ensure that you are using a sulfate-free, gentle, and natural shampoo to avoid your hair being stripped of its natural protective oils.
#2. Get the Right Styling Tools:
If you're using a hair heat styling product that's old and well-used, then it may be causing damage to your hair. After a while, flat irons may lose their 'glide' over the hair, meaning that you have to drag the irons across your hair and cause excess damage, simply to get the style that you want. Upgrading to a newer styling tool, such as this vibrating flat iron, can help you to keep your locks in a healthier condition.
#3. Use the Right Heat Setting:
Depending on your hair type, the temperature level requirement of your heat styling tools will vary. Some styling tools will now have heat options for certain hair types, for example, damaged hair to try and avoid causing any further problems. In general, thicker hair will require a higher temperature than fine locks. When the heat setting is correct, you should only need to pull the irons or tongs over the section of hair once to get the desired result.
#4. Use Heat Protection Spray:
Before applying any heat products to your hair, it's essential to add a protective barrier to your hair with a heat protection spray. If you prefer to use natural products on your hair, you can find heat protectants made from natural products such as coconut or argon oil. Think of using heat protection like using sunscreen – you wouldn't want your skin to burn, so why let your hair?
#5. Get the Aftercare Right:
After heat styling, it's a good idea to take some time to wear your hair more naturally and allow it to replenish its natural moisture. To help this process along, use a hydrating mask treatment on your hair at least once per week and request a protein treatment when you go to the salon for a trim.
If you use heat styling a lot for your hair, we hope these tips help to keep it in healthy and strong condition.